Import Compliance
Our dedicated team of international trade experts provides import compliance training & consulting to clients seeking to transform, create, and realign their legacy compliance programs. Deviation from compliance rules can disrupt an entire supply chain - and it's the importer of record who shoulders the bulk of the responsibility to make sure that doesn't happen. By guiding them through the complexities and challenges of U.S. import law, we help clients steer well clear of potential pitfalls and unlock opportunities to carve out competitive advantages.
Import Compliance Services Include
HTSUS & HTSCA Classification
We provide organizations with fully managed HTS Classification programs, whether broad scale, ad-hoc, or ongoing support for import, export, free trade agreements, and more. Our process includes industry expertise, professional opinions, CROSS Rulings, accurate recordkeeping, and system updates.

Protests
19 U.S.C. 1514, Protest Against Decisions of Customs Service provides the legal vehicle for importers and interested parties to administratively contest CBP decisions related to imported merchandise. Our team experience runs deep in dealing with challenges from customs authorities. We have experience in writing, supporting, and submitting successful protests.

Reconciliation
Reconciliation allows the importer, using reasonable care, to file entry summaries with CBP with the best available information, with the mutual understanding that certain elements, such as the declared value, remain unconfirmed. Generally there are two challenges: first is getting approved to enter the Reconciliation program, while the second is actually performing the Reconciliation process.
Customs Rulings
Customs rulings are binding administrative decisions issued by U.S. Customs and Border Protection (CBP) pursuant to 19 C.F.R. Part 177. Rulings may address customs related matters, including United States tariff classification, marking, and valuation. Rulings may only be prospective and in response to a ruling request.
Prior Disclosure
19 C.F.R. § 162.74 Prior Disclosure provides the legal basis for proactively addressing and resolving these errors, with the goal of eliminating fines and penalties as a result. We help recognize, plan, and resolve these errors through coordination with your teams and legal counsel, and liaising with the Customs Commissioner and the Fines, Penalties, and Forfeitures Port Officers.
Big Data
Leverage your data to find errors and inefficiencies hiding in compliance – whether on your customs entry, in your supply chain, or in your systems of record. Errors and mistakes of fact pose considerable risk to sustainable operations, while new cost-saving opportunities may be lurking in plain sight.

Valuation
The Customs Valuation Agreement of the World Trade Organization (WTO) sets out a fair, uniform and neutral system for determining the value of imported goods on which customs officials levy duties. This system bars the use of arbitrary or fictitious customs values.

Free Trade Agreements
Our teams and tooling stay ahead of the curve and allow for end-to-end FTA support and management. We keep up with the ever-changing landscape, so you don't have to.

Duty Drawback
Determine if you're eligible for a portion of the over $2 billion dollars per year of unclaimed refunds from U.S. Customs. If you qualify, we will set up your program and manage it.
Complimentary Consultation
Contact us today to schedule a complimentary 30-minute consultation. This opportunity creates a space for you to ask important questions and learn from our experts & industry veterans. During the consultation we'll learn more about your operations, listen to your concerns, and provide useful answers to your questions. Let us help you maximize the return on your global trade compliance program investment and continue to be a leader in your industry.
Partnering with Star comes with access to decades of real-world knowledge & experience to anticipate, diagnose and solve issues relating to the customs clearance and global delivery of imported/exported merchandise.
Star maintains a deep understanding of the complexities of our clients' needs and risk profiles. Our compliance services are aligned to your needs and, most importantly, assembled to address those needs comprehensively.
Star USA acts on your behalf as your highly skilled and experienced employees providing comprehensive solutions to navigate regulatory requirements, manage your import/export footprint, and maximize your global opportunities.
INCOTERMS® 2020
Expert guidance when buying and selling internationally.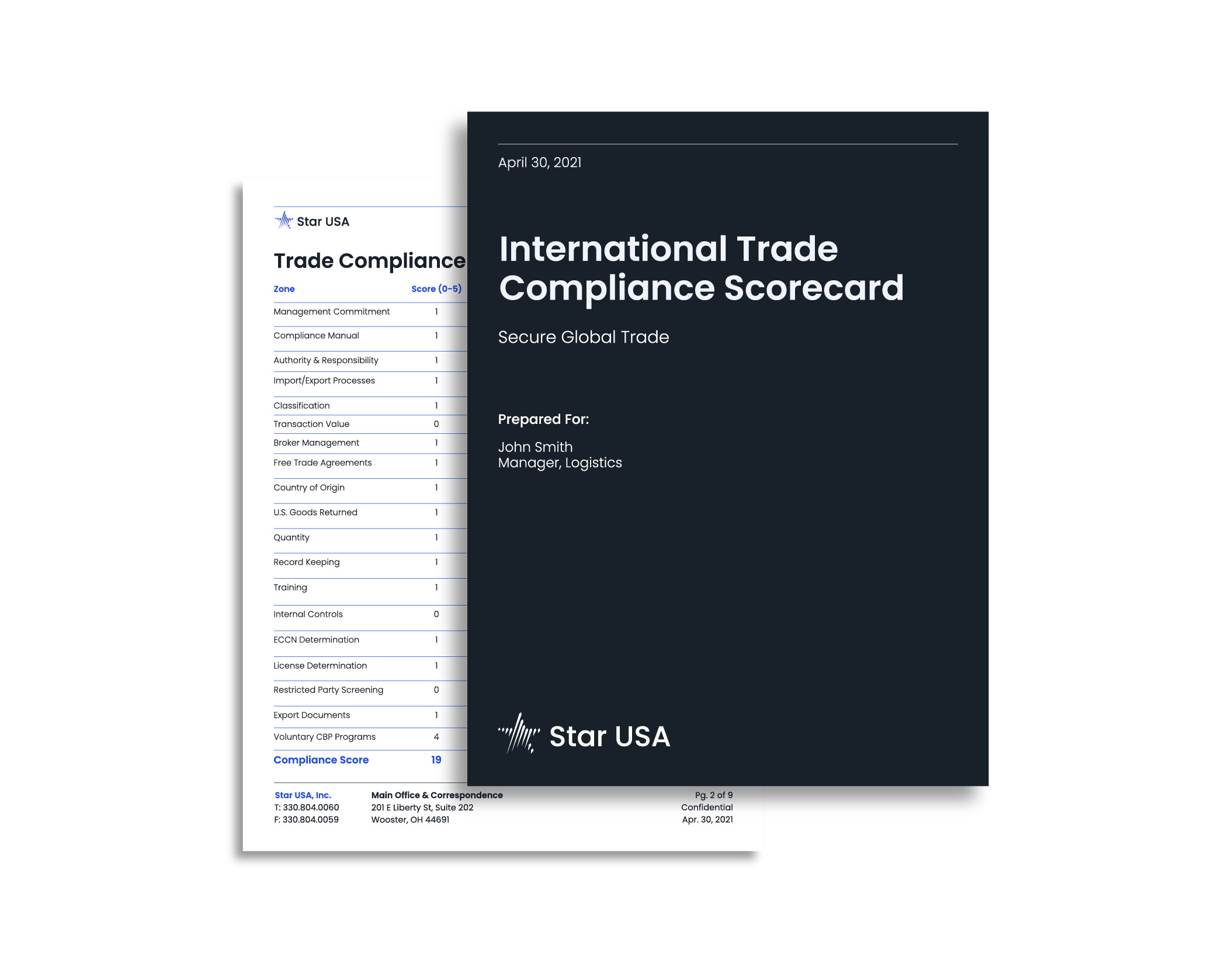 Discover your compliance score.