Classification Services
Star USA provides expert product classification services and training to ensure the processes and procedures of our clients engaged in international trade are aligned with all relevant regulatory compliance standards - minimizing risks and maximizing profit margins.
We provide product classification services and training for import and export clients across the globe in a range of industries, including aerospace, automotive, plastics, chemicals & tech.
Our extensive knowledge and experience with item classification helps expedite the process while also ensuring it's done correctly. Star USA's strategic approach allows your team to focus instead on core operational priorities.
Correcting Course on International Trade Compliance
Maintaining Efficient, Functional and Compliant International Operations
Classification Service Process
1. Initial Meeting
Meet key stakeholders
Facility Tour (optional)
Review procurement, manufacturing processes
Clarify data sources, communication channels & targets
2. Establish Classification Methodology
Item groups & baselines
Details from key contacts
3. Classify Items
Apply methodology to item groups by HTS
Subheading: manufactured & purchased items
4. Deliver Classification Matrix
Product, description, classification & supplier instructions & guidelines for applying data
Customized Product Classification Services & Training
The Harmonized Tariff Schedule of the U.S. is a standardized system to classify imported products and goods. It's a major determinant of customs duties, taxes, and regulatory requirements.
Item classification is based on the material composition, product name, and/or intended function of the imported product or good. Although it's used by the U.S. CPB, it's recognized as a universal classification tool because it uses a nomenclature structure administered by the World Customs Organization (WCO).
Reasons to use the HTS Classification System:
Stiff penalties for non-compliance. Failure to comply can result in inspections, fines, penalties - and potentially freezing the imports/exports of habitual offenders.
Keeps competition fair. HTS standardizes product classification so that two companies importing the same product will get the same item classification - and thus be subject to the same tariff and duty rate.
Bolsters public trust. Adherence to the HTS classification system gives the public confidence in the company's products.
Simplifying Product Classification 
Star USA provides clients with fully managed HTS Classification programs, whether broadscale, ad-hoc, or ongoing for import, export, FTAs & more. Our services include education and assistance for CROSS Rulings, recordkeeping, and system updates.
Items are given a 10-digit HTS code that classifies them into certain "chapters," "headings," and "subheadings." The U.S. Customs & Border Protection (CPB) uses this system and its rules to classify imported goods.
Contact us for more information on product classification services training.
Contact us today to schedule a complimentary 30-minute consultation. This opportunity creates a space for you to ask important questions and learn from our experts & industry veterans. During the consultation we'll learn more about your operations, listen to your concerns, and provide useful answers to your questions. Let us help you maximize the return on your global trade compliance program investment and continue to be a leader in your industry.
Partnering with Star comes with access to decades of real-world knowledge & experience to anticipate, diagnose and solve issues relating to the customs clearance and global delivery of imported/exported merchandise.
Star maintains a deep understanding of the complexities of our clients' needs and risk profiles. Our compliance services are aligned to your needs and, most importantly, assembled to address those needs comprehensively.
Star USA acts on your behalf as your highly skilled and experienced employees providing comprehensive solutions to navigate regulatory requirements, manage your import/export footprint, and maximize your global opportunities.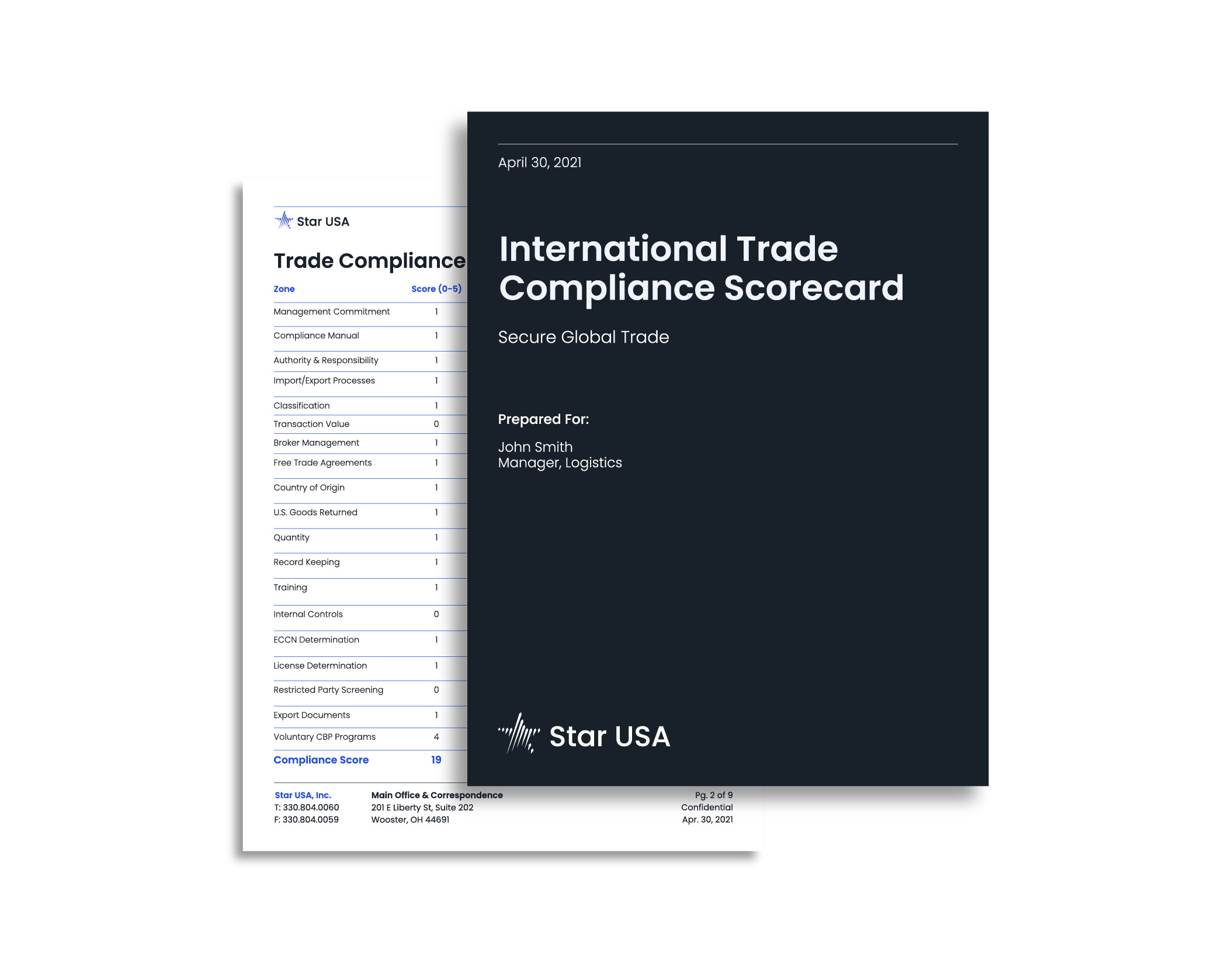 Discover your compliance score.