Trade Management Operations
Trade management operations experts provide insights and recommendations on tactical implementation of best international trade practices to help you hit your strategic goals. Star USA helps clients achieve and maintain successful trade transactions across all platforms, timelines, and external pressures.
Trade Management Operations Experts' Services
Broker & Forwarder Management
Brokers and Forwarders have unprecendeted access and influence on the global supply chain. We work with you to establish Service Level Agreements (SLAs) and processes that maximize your partnerships.
Big Data
The term "big data" didn't mean much even a quarter century ago, but now it's recognized as a highly valuable tool in international supply chains. Big data is the high-volume, high-velocity, and/or high-variety information assets that can be used to highlight opportunities to minimize scarcity, production costs, and logistics slowdowns.

Internal Audit
Trade management operations experts can help define and customize internal audit processes carried out by your staff or directly managed by the highly-skilled auditors at Star USA.

Free Trade Agreements
Companies that seize every Free Trade Agreement opportunity available are able to realize huge cost savings. Global developments in FTAs are increasingly influencing supply chain design. Multinational corporations should leverage FTAs to their greatest possible advantage. Our trade management operations experts can help identify FTAs for which you are eligible and navigate through the complexities of regulatory compliance.

Duty Drawback
Effective trade management operations don't overlook duty drawback opportunities. A drawback is the refund of certain duties, taxes, and fees on imported goods that are later destroyed or exported. U.S. Customs and Border Protection reports that every year, more than $2 billion in duty drawbacks goes unclaimed. Don't leave that money on the table when our trade management operations experts can help guide you through the process.
Trust Our International Trade Management Training & Services
The U.S. Customs and Border Protection office enforces some 400 laws and regulations on behalf of more than 40 other federal government agencies. The agency collects an estimated $95 billion in annual total duties, taxes, and fees, and oversees 326 ports of entry to the U.S. 42 Fines, Penalties, and Forfeitures field offices.
Point blank: That's an awful lot of red tape.
We recognize that navigating the dynamic and increasingly complex world of global commerce is no simple feat. Star USA helps simplify your global trade management processes with top-tier training and trade management operations services from some of the most highly skilled and experienced experts in the industry.
If your goal is to take on trade management operations internally, we want to empower your organization to do that by providing every tool you will need to successfully implement and maintain that. If you'd rather hand over the trade management reins to a reliable third party so you can focus more on core operations, we can handle that as well. We use a comprehensive approach to international supply chain management that takes into account the specific size, resources, needs, and goals of your operation.
Star USA's trade management operations experts can help you make informed decisions on keeping costs and liabilities in check while creating supply chains that are more nimble and efficient.
INCOTERMS® 2020
Expert guidance when buying and selling internationally.
Complimentary Consultation
Contact us today to schedule a complimentary 30-minute consultation. This opportunity creates a space for you to ask important questions and learn from our experts & industry veterans. During the consultation we'll learn more about your operations, listen to your concerns, and provide useful answers to your questions. Let us help you maximize the return on your global trade compliance program investment and continue to be a leader in your industry.
Partnering with Star comes with access to decades of real-world knowledge & experience to anticipate, diagnose and solve issues relating to the customs clearance and global delivery of imported/exported merchandise.
Star maintains a deep understanding of the complexities of our clients' needs and risk profiles. Our compliance services are aligned to your needs and, most importantly, assembled to address those needs comprehensively.
Star USA acts on your behalf as your highly skilled and experienced employees providing comprehensive solutions to navigate regulatory requirements, manage your import/export footprint, and maximize your global opportunities.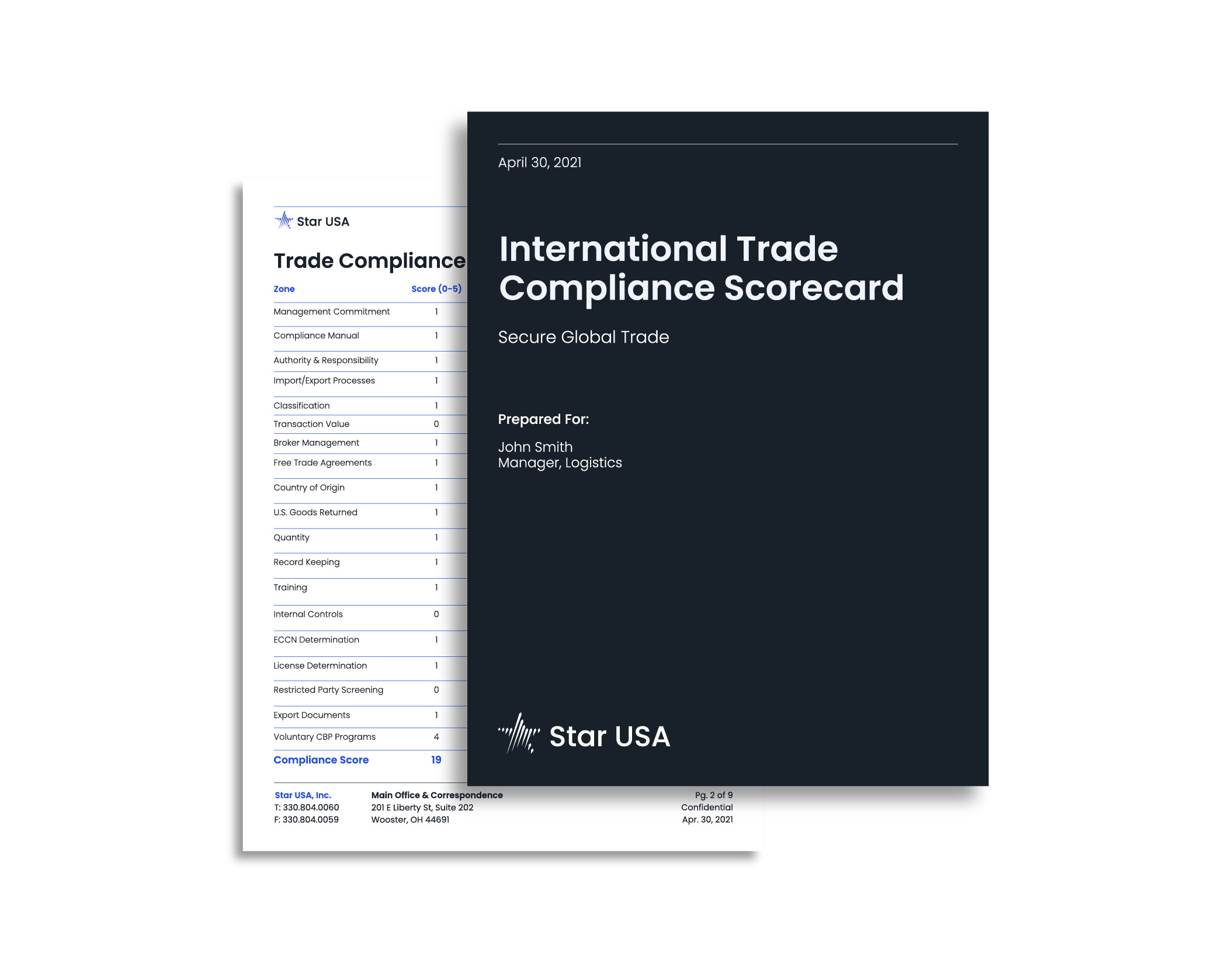 Discover your compliance score.