Export Compliance
Reactive programs are not viable; to succeed you must proactively implement and execute a robust and comprehensive strategy. We provide comprehensive solutions to navigate regulatory requirements, manage your export footprint, and maximize your global opportunities.
Export Compliance Services Include
HTS & ECCN Classification
We provide organizations with fully managed HTS Classification programs, whether broad scale, ad-hoc, or ongoing support for import, export, free trade agreements, and more. Our process includes industry expertise, professional opinions, CROSS Rulings, accurate recordkeeping, and system updates.

Denied Party Screening
Denied party screening applies to you.  Don't gamble with your export privileges by thinking "one size fits all"  when it comes to screening.  Instead, consider the concept of smarter screening.  We consider your business model and incorporate the Best Practices factors that will fit your organization's needs.
Export Licenses
We make a complicated process easy to understand. With decades of experience, we'll work with you to determine if a license is required and then facilitate the license process.

Duty Drawback
Determine if you're eligible for a portion of the over $2 billion dollars per year of unclaimed refunds from U.S. Customs. If you qualify, we will set up your program and manage it.

Free Trade Agreements
Our teams and tooling stay ahead of the curve and allow for end-to-end FTA support and management. We keep up with the ever-changing landscape, so you don't have to.

Internal Audit
We help define and customize audit processes carried out internally by your staff or administered directly by our trained auditors.
INCOTERMS® 2020
Expert guidance when buying and selling internationally.
8 Key Elements of an Export Compliance Program (ECP)
1. Management Commitment
Have strong and continuous Management Commitment. In order to build and maintain an effective program Senior management must:
Publicly support compliance policies and procedures
Provide sufficient resources
Support export compliance training and training sessions
2. Risk Assessment
Write and implement Export Authorization procedures on jurisdiction, classification, licensing and screening. This is vital for preventing your organization from exporting unauthorized items and possibly facing export penalties.
3. Export Authorization
Identify and mitigate your organizations potential vulnerabilities by conducting frequent Risk Assessments.
4. Record Keeping
Assign individuals roles in Recordkeeping and ensure procedures meet the requirements in 15 CFR 762.2
5. Training
Require Training on Export Controls to all employees and support employees who attend trainings in order to keep up with changing regulations and meet other export compliance practitioners.
6. Audits
Perform regular Audits to gauge how well procedures are implemented and how elements need to be augmented.
7. Compliance Issues
Implement a program to Handle Compliance Issues including how to prevent Export Violations and when one is found how to complete Corrective Actions.
8. Maintain an ECP
Whether writing an ECP for the first time or maintaining an ECP, make sure to keep the manual current and relevant to the members of your organization.
Complimentary Consultation
Contact us today to schedule a complimentary 30-minute consultation. This opportunity creates a space for you to ask important questions and learn from our experts & industry veterans. During the consultation we'll learn more about your operations, listen to your concerns, and provide useful answers to your questions. Let us help you maximize the return on your global trade compliance program investment and continue to be a leader in your industry.
Partnering with Star comes with access to decades of real-world knowledge & experience to anticipate, diagnose and solve issues relating to the customs clearance and global delivery of imported/exported merchandise.
Star maintains a deep understanding of the complexities of our clients' needs and risk profiles. Our compliance services are aligned to your needs and, most importantly, assembled to address those needs comprehensively.
Star USA acts on your behalf as your highly skilled and experienced employees providing comprehensive solutions to navigate regulatory requirements, manage your import/export footprint, and maximize your global opportunities.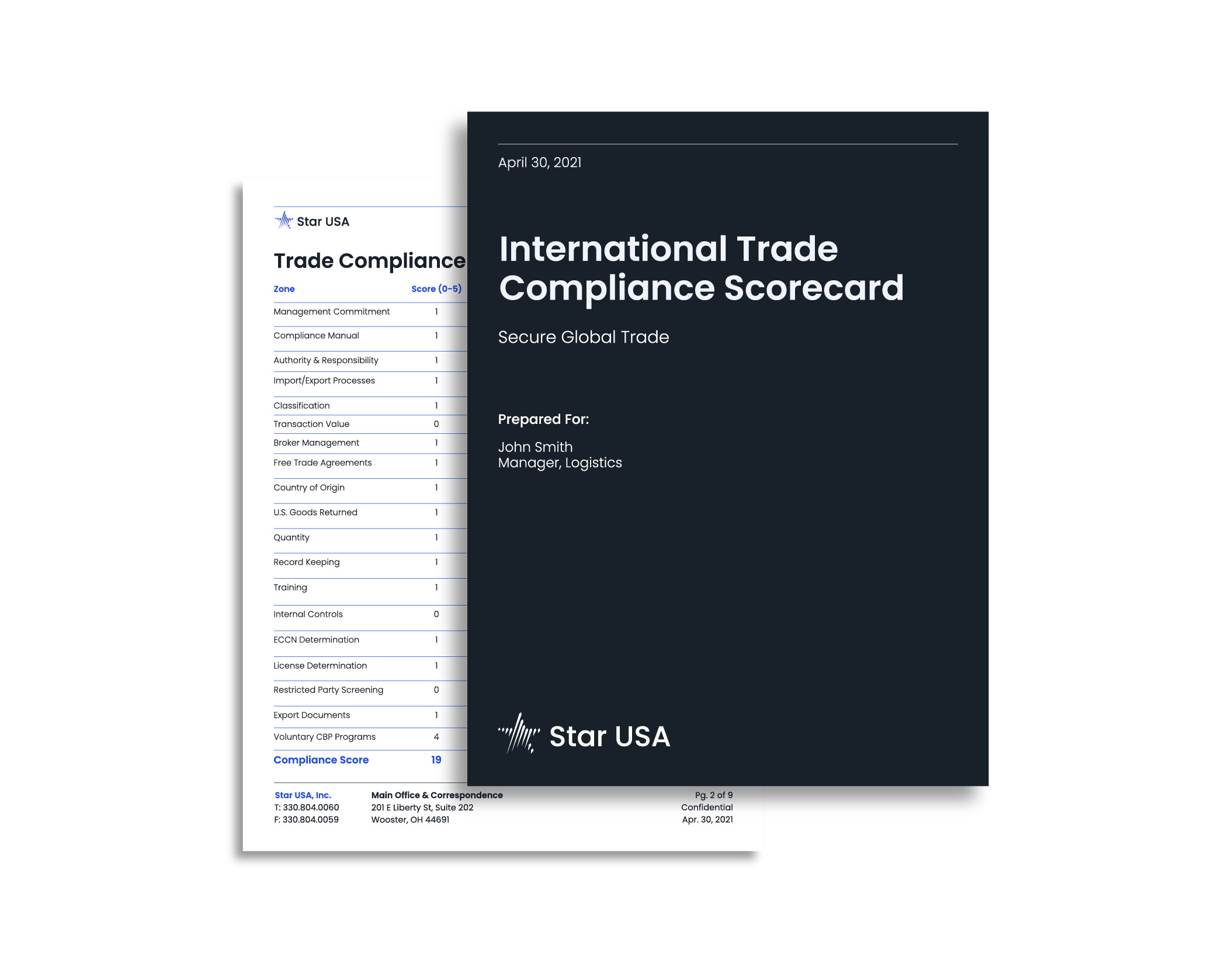 Discover your compliance score.