Free Trade Agreements
Trade Agreements are a substantial asset in minimizing spend, reaching customers, and making a competitive stance in the global marketplace. Star USA's international trade experts offer free trade agreement consulting with a focus on helping businesses identify eligible goods while maintaining compliance and mitigating risk through fully-managed processes.
Free Trade Agreement Consulting Services
HTSUS & HTSCA Classification
We provide organizations with fully managed HTS Classification programs, whether broad scale, ad-hoc, or ongoing support for import, export, free trade agreements, and more. Our process includes industry expertise, professional opinions, CROSS Rulings, accurate recordkeeping, and system updates.

Supplier Solicitation
 The Supplier Solicitation process helps companies in collecting details from suppliers prior to import of any goods. You may be able to achieve some duty tax benefits on importing goods if the government of importing country has a trade agreement with the government of the country of origin of goods.

Valuation
The Customs Valuation Agreement of the World Trade Organization (WTO) sets out a fair, uniform and neutral system for determining the value of imported goods on which customs officials levy duties. This system bars the use of arbitrary or fictitious customs values.
Product Qualification
Product Qualification is an integral part of the Free Trade Agreement process. Our free trade agreement consulting experts recognize that proper qualification methods and recordkeeping is essential.

Document Issuance
Issuing Free Trade Agreement Certificates requires certain processes and procedures to be in place. We'll define & implement those processes, and issue the documents for you.

Internal Audit
We help define and customize audit processes carried out internally by your staff or administered directly by our trained auditors.
Complimentary Consultation
Contact us today to schedule a complimentary 30-minute consultation. This opportunity creates a space for you to ask important questions and learn from our experts & industry veterans. During the consultation we'll learn more about your operations, listen to your concerns, and provide useful answers to your questions. Let us help you maximize the return on your global trade compliance program investment and continue to be a leader in your industry.
Partnering with Star comes with access to decades of real-world knowledge & experience to anticipate, diagnose and solve issues relating to the customs clearance and global delivery of imported/exported merchandise.
Star maintains a deep understanding of the complexities of our clients' needs and risk profiles. Our compliance services are aligned to your needs and, most importantly, assembled to address those needs comprehensively.
Star USA acts on your behalf as your highly skilled and experienced employees providing comprehensive solutions to navigate regulatory requirements, manage your import/export footprint, and maximize your global opportunities.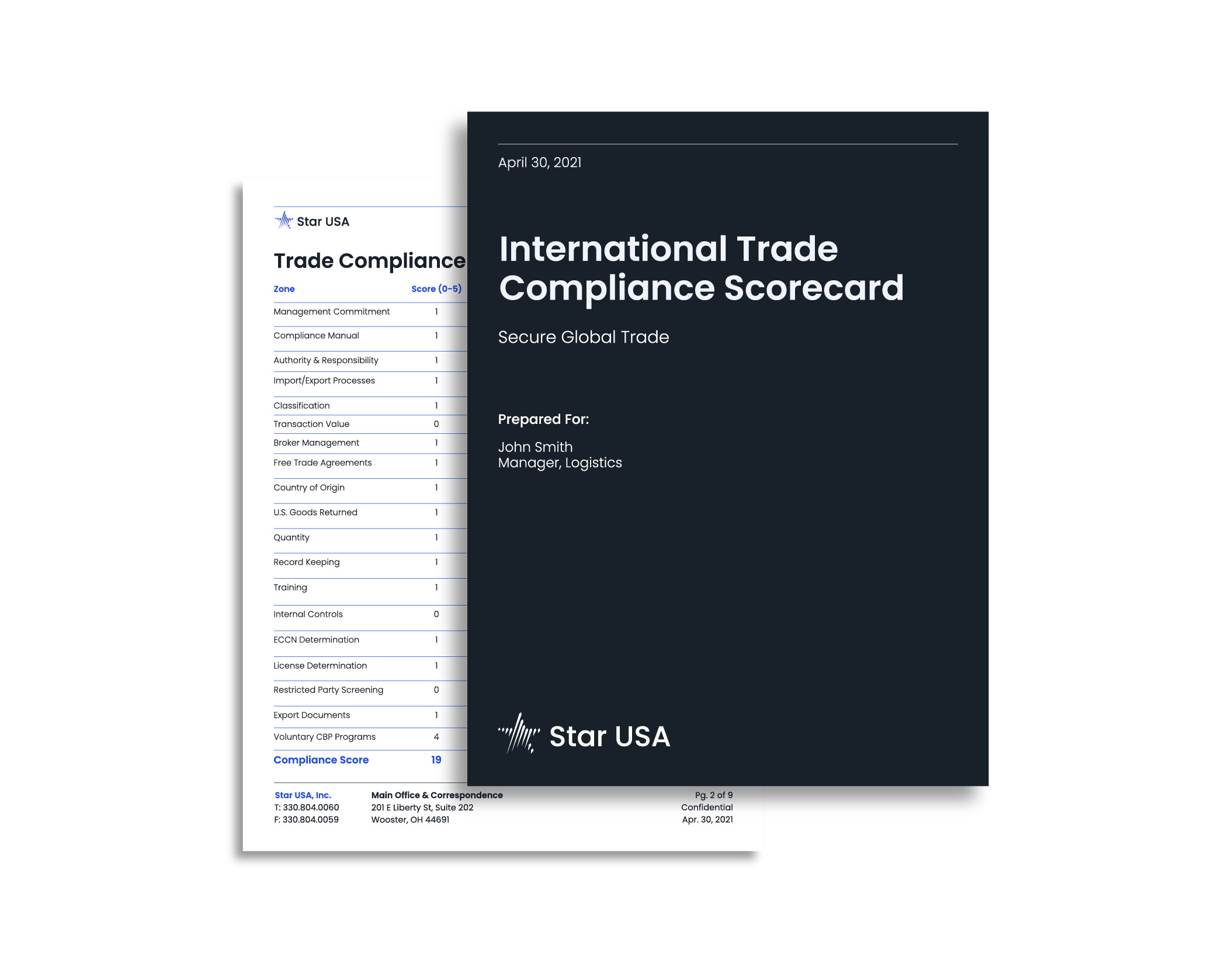 Discover your compliance score.