Consulting Services
International trade rules and regulations aren't evergreen. Successful global businesses can prepare their operations for constantly shifting trade compliance rules and mercurial regulatory landscapes by investing in international trade consulting services from trusted trade experts. In addition to trade consulting and customized import/export compliance programs, Star USA offers training to empower your team to manage your own trade functions.
Global trade regulations aren't evergreen. Supply chains suddenly shift. Proactively position your team for success. In a landscape of dynamic compliance rules, invest in customized international trade consulting.
Confidence in Compliance. It's a great, big world - with little room for error. Trust only skilled experts in international trade consulting to steer you right.
Course Correction. Audits? Security Problems? Compliance issues? Lean on our longtime experience to discover fast, effective solutions and a clear path forward.
Supply Chain Security. Set sound compliance strategies that both strengthen & streamline your chains of supply.
Meeting government standards is one thing. But enterprising trade strategies should go beyond that. We empower you to take on tough trade markets with careful assessments and planning paired with decisive action - ultimately ensuring tighter security, greater efficiency, and lasting sustainability.
International Trade Consulting Services
Global trade volume is 40+ times what it was in the 1950s. Star USA helps your team keep pace with rapidly-evolving economies, technologies, and consumer expectations. We help clients tackle trade complexities, mitigate existing damages, minimize future risks, boost operational resilience, and carve competitive advantages from every angle.
Don't leave money on the table. Star USA identifies monetary recovery opportunities and provides claims process guidance.
Duty drawbacks and duty deferral programs are examples of potential monetary recovery avenues. Duty drawbacks are refunds, reductions, or waivers of customs duties on imported (soon-to-be-exported) goods. Duty deferral pertains to bonded warehouses, foreign trade zones, and temporary importation under bond (TIB). We help with it all.
Foreign trade is full of technicalities. Our international trade consulting services break down the finer points into manageable tasks with tangible pay-offs.
Services like product classification, advanced customs rulings, and customized training are all in our wheelhouse. Star USA sets you up for success by ensuring no details are overlooked and every cog in your trade machine is functioning as it should.
Compliance Process Reviews
Import compliance & export compliance aren't one-and-done deals. Regular reviews help ensure internal processes align with current international trade rules applicable to your industry, products, location, and purpose.
Limit the risk of running afoul of regulators with in-depth internal analysis, post-entry audits, and customs compliance reviews. Scheduled compliance check-ups help reduce liabilities and beef up your bottom line.
Dedicated international trade consultants help companies seize every possible advantage available through Free Trade Agreements and Preferential Trade Agreements.
Make the most of lower trade barriers. We assist with country of origin determination, certificate of origin maintenance, and free trade program compliance reviews.
How Can We Help? Let us set you up for success!
Minimize liabilities.
Keep your company's reputation intact - and costs in check. Adhering to the best trade practices and compliance rules reduces your risk.
Seize opportunities.
Clinch strategic advantages. Maintaining compliance knocks down trade barriers, leading to profitable new partnerships and stronger supply chains.
Plan future priorities.
Budget better and prepare smarter. International trade consulting services can help steel you for inevitable shifts in geopolitical dynamics, technologies, and best industry practices.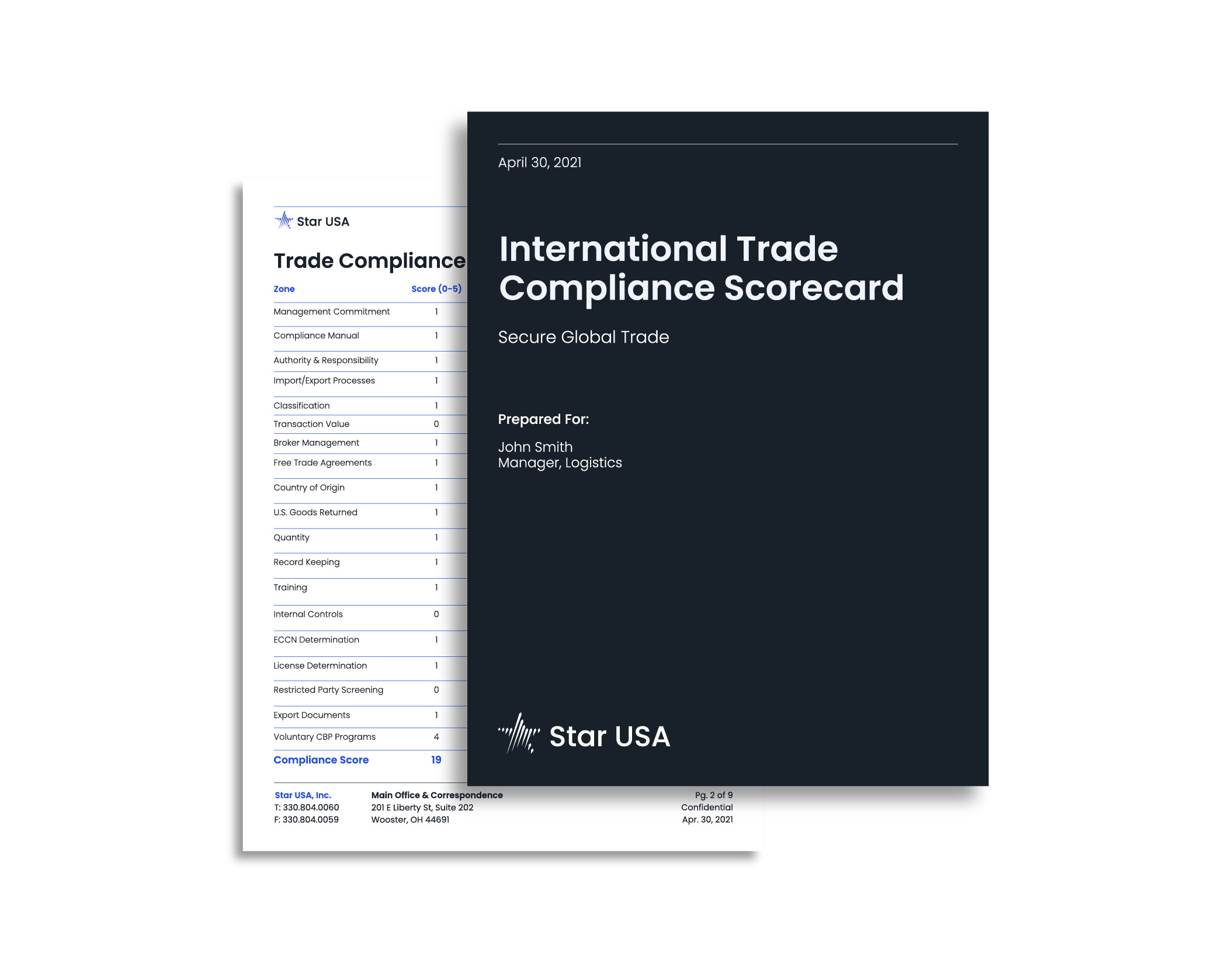 Discover your compliance score.
Our Process
All our projects are custom, but here's a snapshot of how we get the gears going:
1.
Initial meeting(s) to pinpoint your goals, challenges, and resources.
2.
Proposal presenting the scope of work, pricing, timelines, and any additional recommendations.
3.
Kickoff call establishing regular communication and milestone reporting plans.
4.
Our team will take it from there - freeing you to focus on your core priorities.
Star USA's international trade consulting experts are top-tier, tried-and-trusted. We're adept in navigating the legal, regulatory, and practical challenges inherent to international trade. Our commitment to clarifying these complexities gives your team the tools to excel further and faster than ever before.
Whatever your industry, wherever your business: we strive to be your go-to for global trade solutions. Our professionals are hands-on, identifying pain points, deciphering complicated regulations, and developing actionable, results-driven plans. We offer consulting, training, and assistance with:
Import Compliance
Export Compliance & Control
Product Classification
Free Trade Agreements
Duty Preference Programs
Supply Chain Security
Trade Management Operations
International Trade Consulting
CTPAT
INCOTERMS 2020®
Customs Broker Exam Prep Course
ACE Reports
INCOTERMS® 2020
Expert guidance when buying and selling internationally.
"Star's training is the most comprehensive in the industry, and helped me get my Broker's license. Very happy!"

Debbie R., Compliance Manager, North America